Product Info.
Main Feature:
1. Image quality 16 million.
2. Induction trigger time 0.5S.
3. High-definition video: 1080P / 30FPS
4. The picture shows Fahrenheit and Celsius temperature simultaneously.
5. Detection angle of 120 degrees.
6. 3 modes
7. Camera photos cab be posted online or sent to the mailbox through the GSM.
8. 2G network, quad-band (850/900/1800 / 1900MHZ)
9. 2-inch high-definition LCD display
Product Description:
This is a high-definition digital camera with MMS function, automatic monitoring, monitoring shooting, and surveillance.
Hunting camera with pyroelectric sensors animal (human) sensor technology to automatically capture high-resolution (16 million pixels) images and smooth video. This camera will be in power-saving state when not detected hunting animals (humans). It consumes only 100 microamps; it can stay a state of alert in a long time. It also can automatically capture high-quality images (up to 16 million pixels) or record HD video clips (WVGA), a mobile device can send a picture of the GSM network. When it started to take infrared (black and white) photos and videos, it comes with a 2-inch color LCD screen of the camera and sound recorder, speakers inside, which is more convenient to use. Laser pointers are used to more accurately scan target, support MMS / SMS / Email via GSM transmission network. In addition, the camera can be used as a portable digital camera, portable, your good helper going out to capture the surprise moments. It has gone through long-term testing and improvement, showing stable and reliable performance, mature manufacturing processes, real long-term use of the occasion to reach -30 ℃ (guaranteed value of -20 ℃), has gained wide acclaim in Europe and America.
Product Features:
1. High image quality (16 million pixel CMOS chip, shoot images of 4032 × 3024 pixel, you can also shoot images of 2048 × 1532 pixel, and a trigger for optional shooting 1-3 photos. )
2. Fast response (from finding the target to the shooting, the time interval is less than 0.5 second.)
3. Long standby time (standby current less than 0.1 mA, rechargeable lithium batteries under normal temperatures can stand two weeks, there was a stand-record lasting 45 days in -20 ℃.)
4. Shooting Video (1080P pixel image; 30 frames / sec; Video length 10-90 seconds optional. )
5. Ultra-small size design ( concealed )
6. TF card recording ( very convenient and cheap, maximum support 32G. )
7. Automatic shooting evidence on other special occasions.
8. Nighttime shooting without the flash (no flash design, shooting at night using an infrared LED, shooting without the flash, not easy to be found by shooting targets, not easy to lose)
9. Use the 8 * AA batteries, DC6V ( Batteries are not included. )
Product Parameter:
1. Image Sensor: 5MP Color CMOS
2. Lens: F / NO = 3.0 FOV (Field of View) = 60 °
3. IR Flash: 65feet / 20m
4. LCD Monitor: 2.0 "TFT
5. Memory Card: TF Card From 8 MB to 32 GB ( TF card is not included.)
6. Image Resolution: 16MP = 5360 * 3200; 12MP = 4032x3024;8MP = 3264x2448
7. Video Resolution: 1080P (30fps), 720P (25fps), VGA (30fps)
8. Video Length: 10s - 90s
9. Pictures + Video: take Picture First, then Video
10. PIR Sensor: Multi zone
11. PIR Sensing Distance: 65ft / 20m (Below 77 ° F / 25 ° C at the Normal Level)
12. PIR sensing angle: 60 °
13. PIR Sensitivity: Adjustable (High / Normal / Low)
14. Operating mode: 24H, DAY, NIGHT
15. Trigger Time: 0.5s
16. Trigger interval:. 5sec - 30min; Programmable
17. Timer: On / Off; Time Lapse Programmable
18. Timing Interval: on / off, Moon Phase, Date
19. Continuous Capture: 1,3,6,9
20. Power Supply: 8 × AA or 4 × AA or solar power supply ( Batteries are not included. )
21. Standby Current: <0.25 mA (<6mAh / Day)
22. Power: 400 videos (interval = 5min, video length = 10s)> 500 MMS (use 8 * AA batteries)
23. Language:
English, French, German, Spanish, Russian, Portuguese, Italian, Dutch, Polish, Danish, Swedish, Finnish
24. Weight:298g
25. Size: 14.5*8*6 cm / 5.71 * 3.15 * 2.36 in
Package Content:
Digital Camera x 1
Antenna x1
CD x1
USB data cable x1
English manual x1
Installation strap x1
Remote control x1
AV cable x1
Holder x1
---
---
Product Photos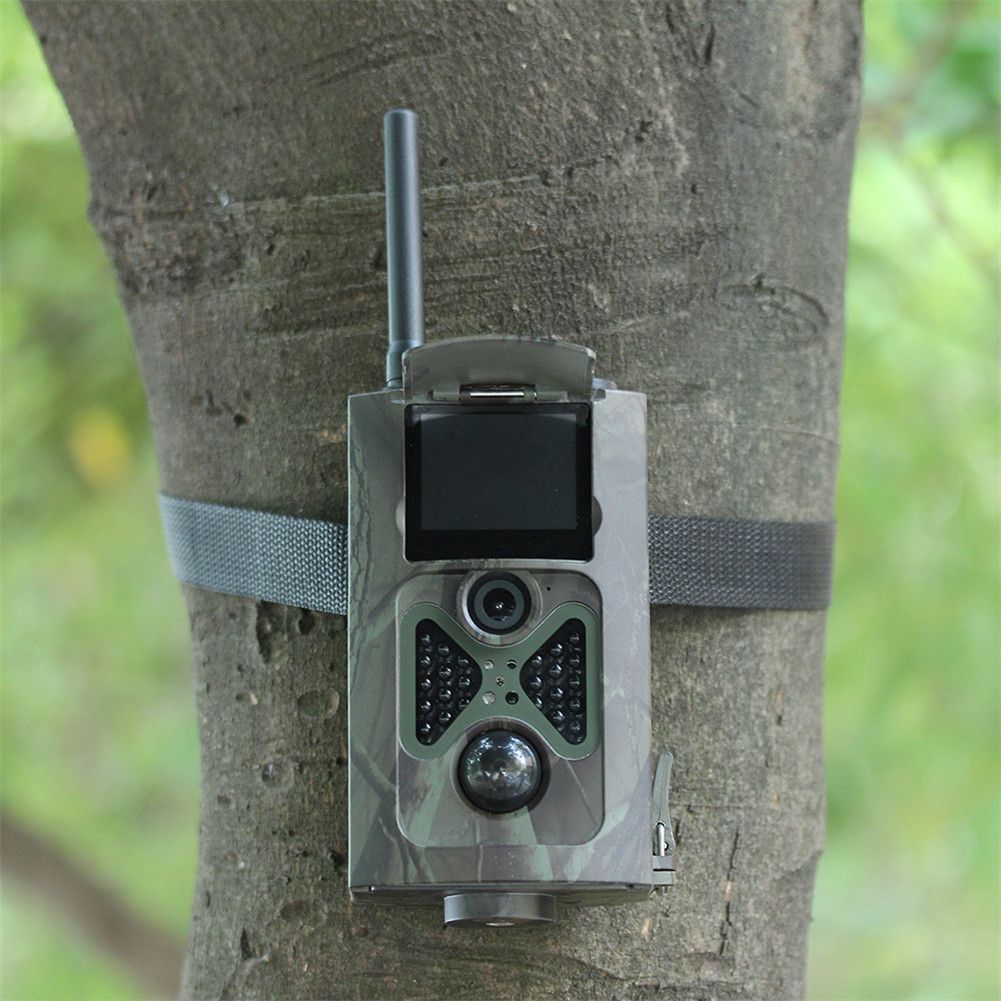 You have to be sure that before you purchase a HC550M Wild Hunting Camera Hunter Game Trail Trap 2G GPRS MMS SMTP/SMS 12MP 1080P PIR Sensor 120 Degrees Wildlife Camera you have previously seen and browse the detail of the products first. In this manner you may be sure that you're getting the proper product which will suit your needs. Since this HC550M Wild Hunting Camera Hunter Game Trail Trap 2G GPRS MMS SMTP/SMS 12MP 1080P PIR Sensor 120 Degrees Wildlife Camera has top quality it is among the best sellers on the market now and many folks are recommending the product to their friends and family. These days the product is really affordable for almost everyone and it's a very good buy for the money. You don't need cheaper products if it'll only sabotage your projects and can not give you the kind of quality that you need in the merchandise. With the higher price you will be sure that your cash will probably be worth spending in this product.